How To Cut And Reverse Your Trade Introduction
In this blog post, we will look at how to cut and reverse your trade. Specifically, we will look at the Elite trader and his ability to reverse a loss from being down 100 lots to getting long up to 300 lots. This price ladder and order flow trading article looks at how an Elite trader on the Axia Futures desk executed trades during the ECB Press conference and after taking a sizable loss, was able to keep a cool head, reverse his position and turn things around.
This article is based on the video down below.
Elite Trader Execution
Price Ladder – Initial Entry Into Short
The trader entered the German 10-Year Bund and 5-Year Bobl after assuming that his hawkish trading plan scenario was in play. He shorted 150 lots in the Bund and a sizable position in the Bobl, but soon after entering, extra information was heard over the Squawk. What was the information?
Clues
get short on the back of the hawkish comment
new information from Squawk coming in: "although they tapered QE, they pushed out when rate rises will come in."
Down below is the situation where the trader is currently in. Recording of this particular point in time can be found here.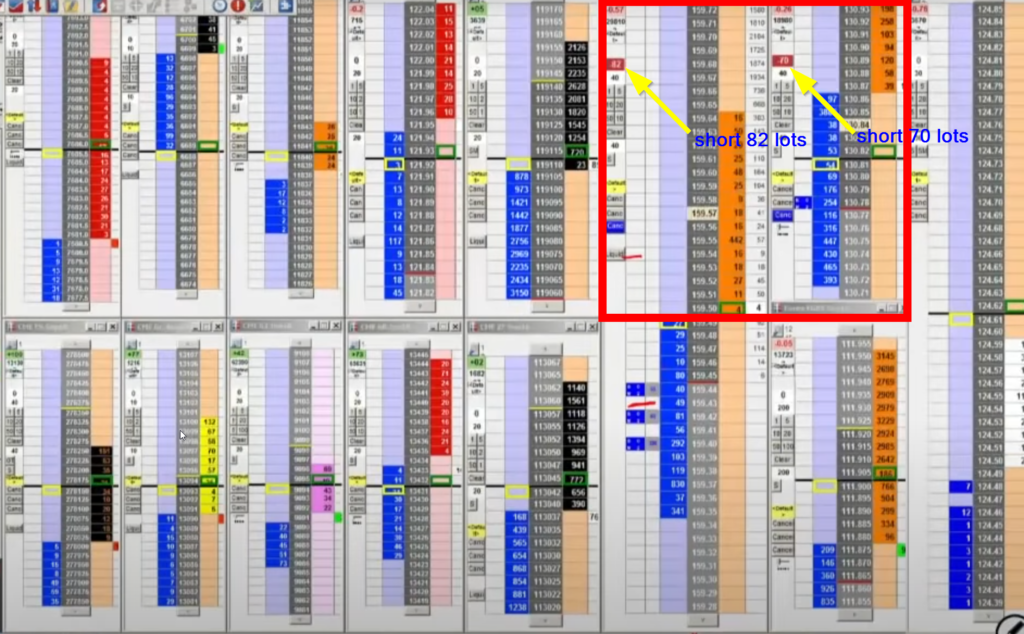 Price Ladder – New Piece Of Information Hitting The Wires
Soon after the trader shorted both Bund and Bobl, extra information was heard over the squawk news service about rate rises being pushed further out into the future.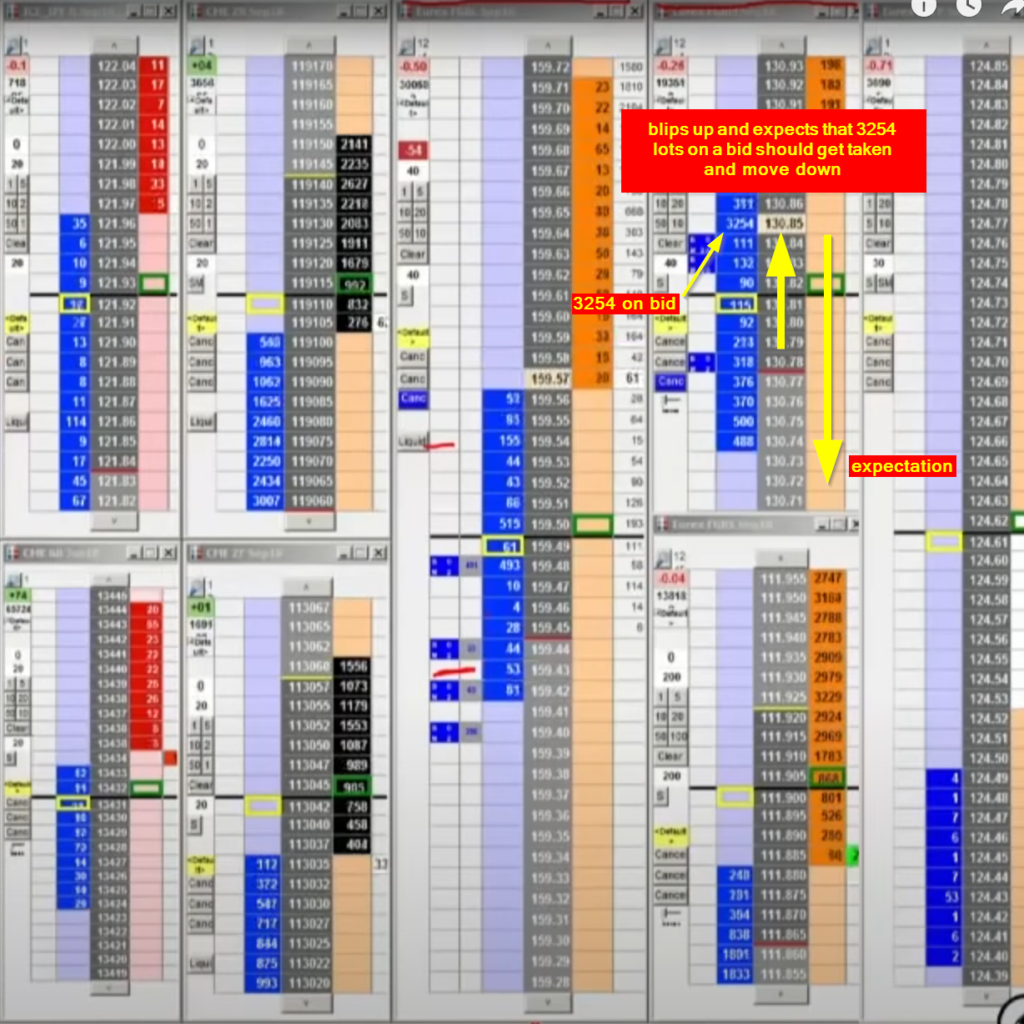 A buyer with over 3000 lots then appeared on the bid in the Bobl, holding the market up. The trader started scaling and averaging out of his position but continued going further offside in all of his trades. After being more than £20K down, the trader then noticed the Euro's correlation supporting a dovish trade scenario and was quick to cut and reverse his position, being long bonds.
What you can see here, is the blip and hold to the upside. The moment market blipped and those 3800-ish lots appeared on the bid, the trader had two options.
A) market will hit into the bid and continue moving down (primary scenario)
B) market will hold that bid and continue moving higher which would signal a change in the expectation of the market (alternative scenario)
What is important here is the correlation with Euro. Since there is an inverse correlation between Euro and Bonds, this trader spots how Euro starts to move aggressively lower. This adds additional information to the puzzle. Now he is faced with these clues.
Clues
new information coming from Squawk
blip and hold
over 3000 lots now holding the bid not being traded into
Euro starts to offer aggressively
With all this information adding up, this creates the opportunity to cut and reverse the trade. Now being down 20k, it is all about being on the right side of the trade given the new information this trader has.
Price Ladder – The Cut And Reverse Trade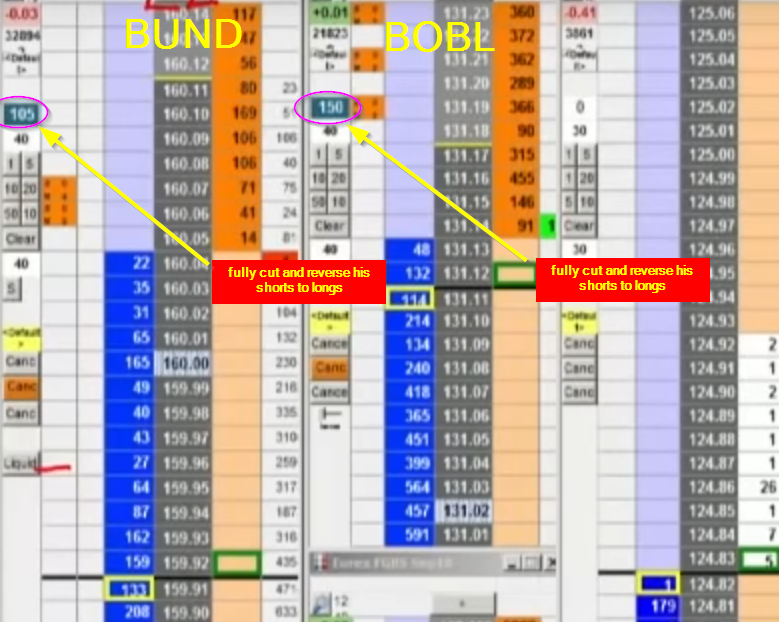 Now leaning on correlations, as long as the Euro is making new lows and that large bid in Bobl holds, he becomes comfortable increasing the size and going for that increase of the momentum, that final flush, constantly laying down the small offers to scale down his trade.
While the trader ultimately ended up bringing his day back well into the positive, it also goes to show that no matter how experienced you might be, there is always room to reflect, improve your execution and grow as a trading professional.
If you want to learn more about price ladder trade management techniques, join us at the free webinar we are running at: https://www.elitetraderworkshop.com.
Thanks for reading.
Don't forget to check out articles you might also like:
If you like our content and would like to improve your game, definitely check one of our courses that teach you all the techniques presented by AXIA traders from a market profile, footprint, or order-flow. If you are someone who likes to trade the news, we have a great central bank course. And if you are really serious about your future trading career, consider taking AXIA's 6-Week Intensive High-Performance Trading Course.
Trade well.
JK