How A Trading Floor Accelerates Your Learning
The first key building block to developing one's trading skill is being surrounded by successful traders on a trading floor whilst immersing yourself in an informational ecosystem that is rich with an opportunity spectrum of approaches and proven edges. It then requires an open mental faculty of digesting and filtering through the key informational flows from such a trading floor. However a trading floor that is successful but without a voice is like Lewis Hamilton teaching a teenager to drive blindfolded. No matter the talent of any instructor, if one cannot see or hear their teachings then there is little room to learn from anyone with a track record of success.
Your learning progress is accelerated when a trading floor has a healthy voice and the source of its voice is the product of consistent and routined success. Being on a trading floor with such a voice that is conversational in respect of real time market-action, made up by multiple successful traders, has an exponential effect on the learning process of a developing trader. Being governed by a variety of specialised market opinions, voiced in real time, provides many varied angles of attack and ways of interpreting and understanding the underlying market mechanics being witnessed in each moment.
This running commentary, especially when markets awaken with systemic volatility or when a specific market enters new price territory and brings in a wave of market participants creating new auctioning flows, can provide the right fertiliser for a developing trader. It stimulates curiosity when one is surrounded by senior, profitable traders who focus their attention in a certain area or dynamic zone and creates a full sensory learning experience in how they interpret and react to new market information. Being exposed to this quality of focused attention with live vocal commentary by a successful trading floor is pure learning gold for any junior trader.
The key, if you want to build habits that last, is to join a group where the desired behavior is the normal behavior.

James Clear
Trading Floor learning dynamics
Beginners Mindset on a Trading Floor
However it requires a beginner's mindset, a solid questioning framework and self awareness to fully exploit one's learning in such a dynamic environment. This is especially true in an environment that commonly has extremely strong characters. Without enough self awareness, you can fall subservient to every mouse click you hear on the floor as your identity is slowly hijacked. In such an environment it is important how you choose to listen to the trading floor and not merely act upon what you hear. Rather, you should listen, digest and assimilate the rationale for the ideas that are reverberating around the trading room. It is this synthesizing process that is the first port of call for one's own rapid progression. You can see many examples of how one of our Elite Traders rapidly processes information on our YouTube channel or in this previous post on how he traded China Trade Wars.
Consolidating Your Trading Floor Experience
At the end of day is then critical to journal and consolidate your experience so that you do not lose the lessons you have gained on the floor. By consciously recording your experience and observations you will embed the many subconscious patterns and cues into your psyche. Neglecting to do this often makes the developemental journey even longer especially if your goal is to cultivate your own skills of unconscious pattern recognition.
As the processing capacity of the mind to train your skills of pattern recognition is most fertile at the end of your session, this is when one's experience needs to be harvested to the maximum degree, otherwise a day loaded with powerful ammunition for learning is simply wasted. At Axia Futures, we call this your end of day debrief of deliberate focused attention and meditative assimilation in order to develop core recall skills. This is a major topic with multiple approaches that we unpack in-depth on our 8 week career trading course.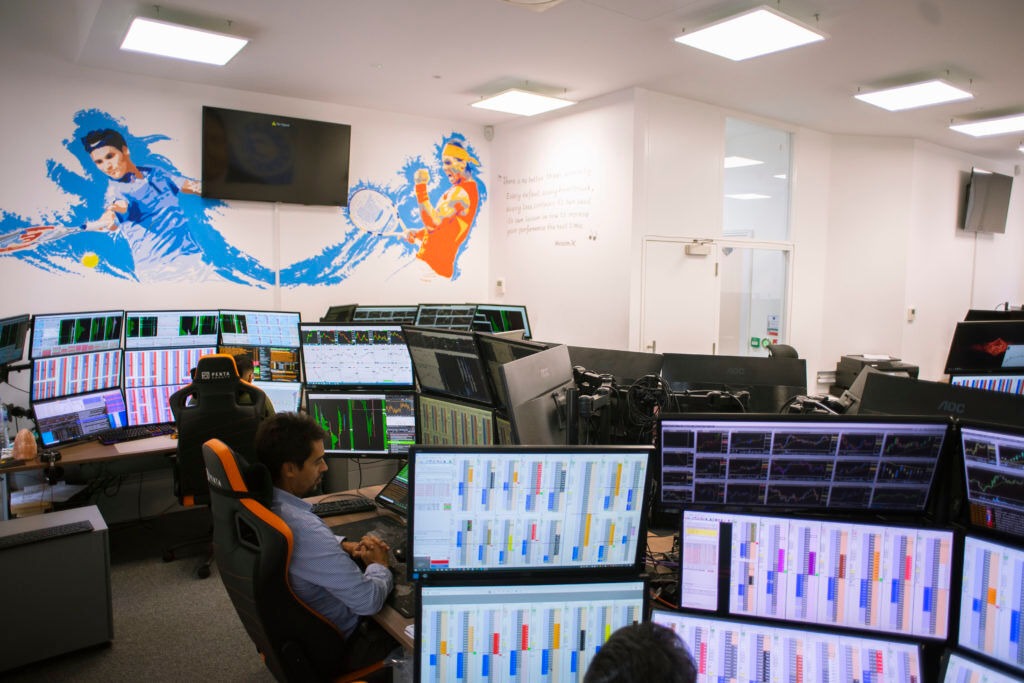 Removing Your Trading Floor Input
As a group of high performing traders, our primal instincts are to benchmark best practices and ignite healthy competitive spirit within the team. To continue growing as a group and to do this on a mass scale, we continually need to ensure that individuals are surrounded by top performers, as this is what drives us to higher levels of performance. Exposure to constant daily informational inputs from the trading floor uncovers many blindspots that each individual may have not noticed in their trading day. As Axia Futures, this may have dovetailed into our EDGE Zone sweetspot.
I have seen many traders in my 16 year career who were incredibly successful on the trading floor that then left for "greener pastures". In many instance they predomantely trade on thier own and slowly slip down in P&L over a few years and never exceed their previous performance levels. Whilst the individuals in the group continue to grow, the individuals who leave become lone wolves and inevitably plateau in their P&L curve.
From developing on a trading floor to later going solo, you effectively remove the key inputs that initially helped you to build a sense for the market. This was informed by the energy on the trading floor which acted as a barometer for energy within the market. Therefore, I always say to our traders who are keen on growing to keep on doubling down on what you doing well and maintain the habits and environmental design that has led to your current success.
The London Trading Floor Live Stream
If you are unable to join a trading floor but wish to get the next best thing, check out our daily live streams from our London Trading Floor or learn to trade with a range of our Trader ​Training courses on offer. The Axia Futures 8 Week Career Programme can be attended in-house or virtually from home as an online trading course. These are the most comprehensive training programmes in the world of proprietary trading​ and are based​ ​upon years of successful in-house skill​s ​development​.
Axia Futures
4 Endsleigh Street London GB WC1H 0DS
+44 20 3880 8500
https://axiafutures.com/
Social Media:
Facebook: https://www.facebook.com/AXIAFutures/
YouTube: https://www.youtube.com/AxiaFutures
LinkedIn: https://www.linkedin.com/company/Axia-Futures/
Contacts:
Demetris Mavrommatis – Co-Founder, Head of Trading
Alex Haywood – Co-Founder Head of Strategy