Reversal Trade Catching The Stops In Gold Introduction
In this blog post, we will be looking at two setups: a reversal trade catching the stops and a breakout trade that leads us to the reversal of the trade in Gold. We will be particularly interested in the reversal type of trade but everything that preceded the moment of reversal will be crucial information we need to take into consideration. Without having the ability to read price ladder and market profile information, this trade would be much harder to take, therefore it is important to grasp these concepts first.
Here is the video for the underlying content of this article.
Gold Trading Context
Before we zoom in on the individual trades, let's have a look at the context. As seen on the left below, the market profile indicates that we are in the range. More importantly, it tells us important information about the low volume area (see our post on how you can use low volume areas in your trading) and the ledge that has been created. Given the range we are in, this can be potentially a good area for buyers to step in and start lifting the offers. We have a first clue to look for the moment we will be trading there. But first things first.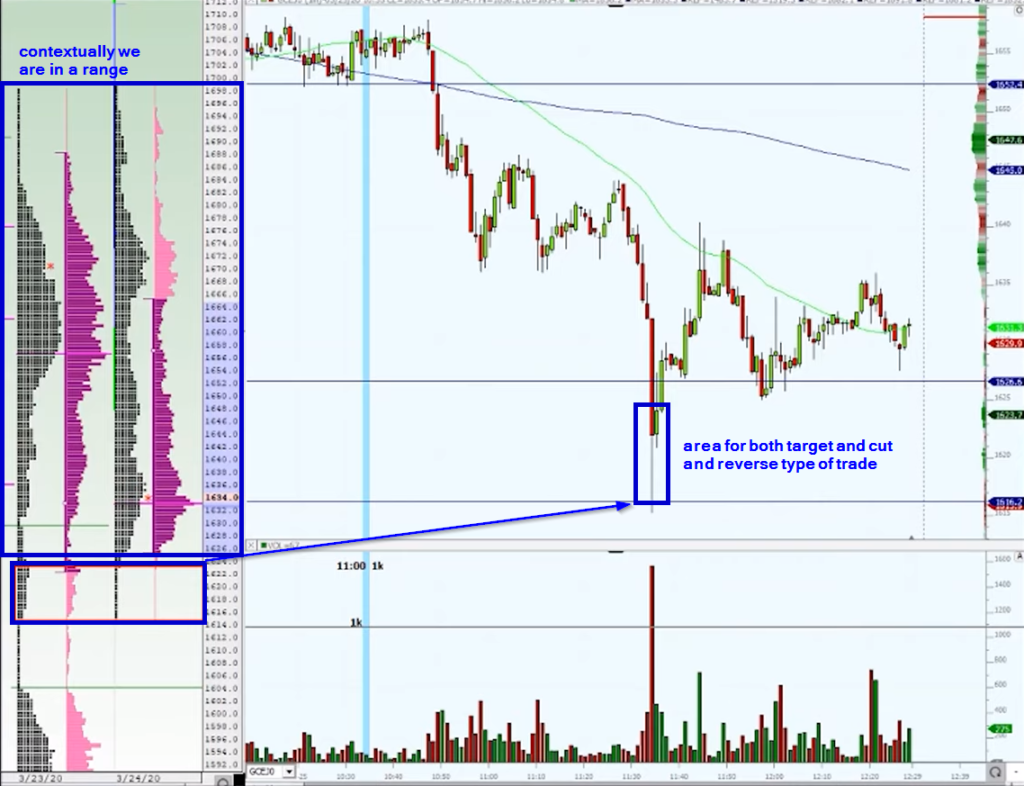 Before we started to trade in the 23 – 15 zone, there was a first opportunity we could have taken (#1trade) to get short first at around 35 on the break of the support. Let's now start with that.
Trade Setups In Gold
Trade Setup Number 1
Looking at the first trade, we are looking at short trade towards our area of low volume and ledge. This area is clearly not only our target but an area for a potential reversal type of trade as well.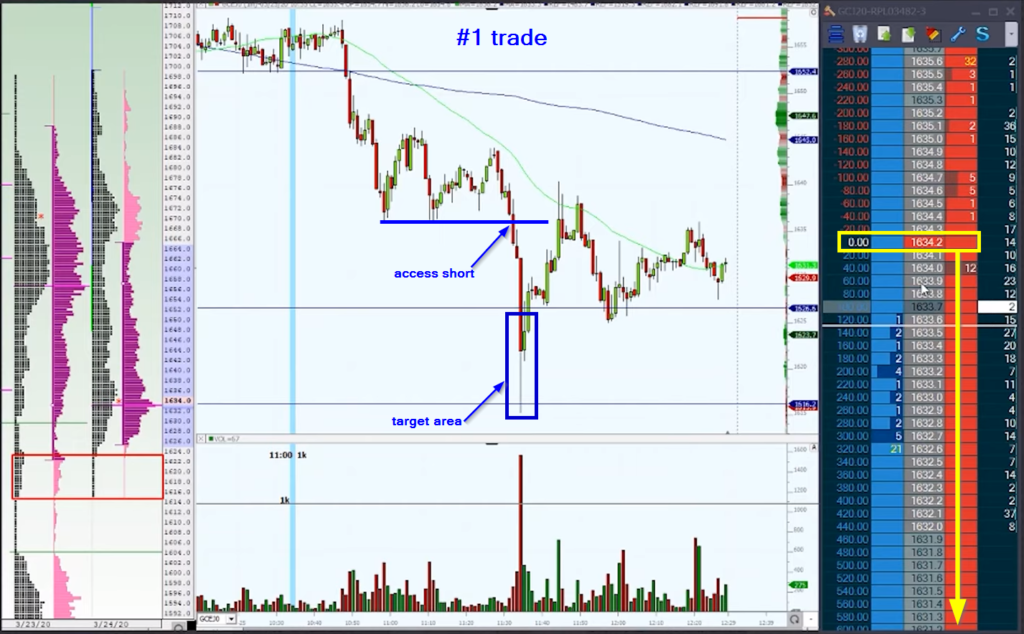 As we are progressing lower after our entry at 1634.2, we can see that selling has a decent pace towards the downside. While we are in a trade a first snap to the downside comes. This a good sign that stops are being triggered by aggressive selling. This can be also an opportunity for us to unwind part of our position. Although the first snap came, we are not yet in our target zone and we continue to hold the remaining position. As the trade progresses lower, the second snap comes, a fast drop of prices and instant reversal. This is where our first trade setup (reaching target) overlaps with our second trade setup.
Trade Setup Number 2
As the first trade is closed, coming down on that second snap from 23 to 15 in one instance, we are getting great confirmation from the market that the spot we have chosen for reversal is a good place to initiate our long position. Why? Because buyers started to overtake control over sellers and started aggressively lifting the offer. Yes, you must be very fast and ready for this reversal. Yes, it puts your stop at 20ticks risk but not at a random location, not under random price ladder circumstances. By this, we know that this is the area where we want to do business.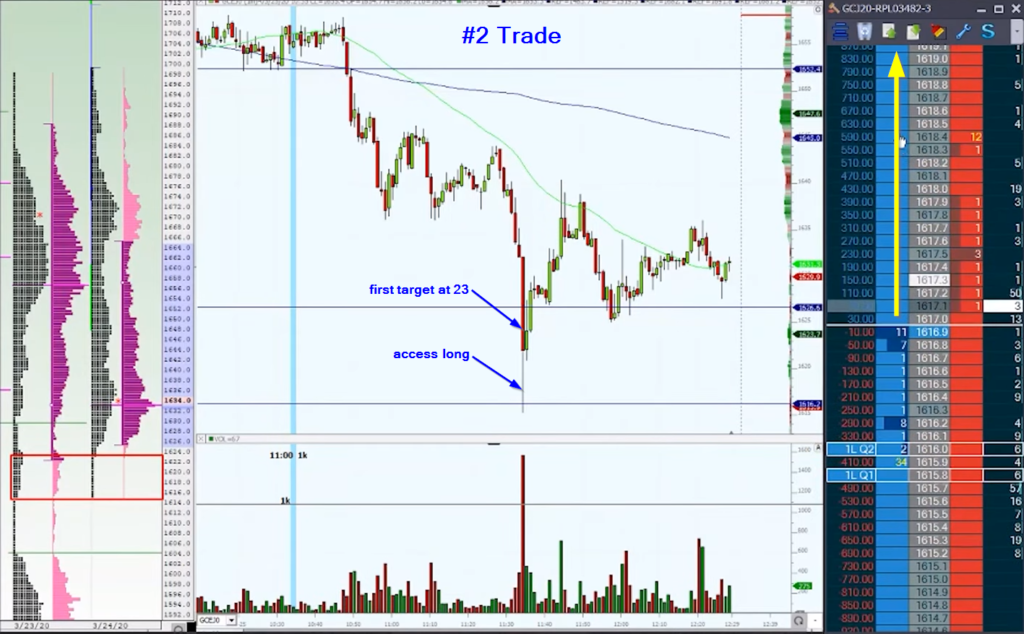 Given the market generated information from the trading session, we are first targeting the low of the value of the day at 22-23. This is the first sensible target for our trade. As we are trading higher from our entry towards 19, the market confirms our belief and is able to drop only a bit, hold 19, and continues higher towards our initial target and eventually all the way back to the point where the selles initiated their shorts (Trade setup number 1 access point).
Key Trading Takeaways
The key takeaway from this article is the understanding of the location for a potential reversal (using market profile) and the way how price ladder gave us a clue that we have picked the right location (second snap). These little clues + preparation gave us the confidence to enter and hold onto our trades.
In case you are interested in finding out more about trader training to learn how to trade and explore other great trading strategies, check out our futures trading course that teaches you exactly that and more. Or if you want to really maximize your ladder execution, check out our price ladder trading course.
If you liked this type of content, you might check these videos as well:
Thanks for reading and until next time, trade well.
JK