When you're faced with trending move to the upside you can find yourself asking a question: How do I get on this move? You need to plan your entry point.
Watching price ladder you could see a strong push up trough 1.09950 with market holding above that price, and leaving behind a very clear and easy to recognise area of low volume. Where other prices have around or more then a 200 traded lots per price, this area only have max 80 lots traded, with as little as 15 lots traded on a single price. This is the area you need to put your focus on. Before price gets there however, it is important to have an expectation of what should happen. Then as soon as you're seeing what you wanted to see to execute on it.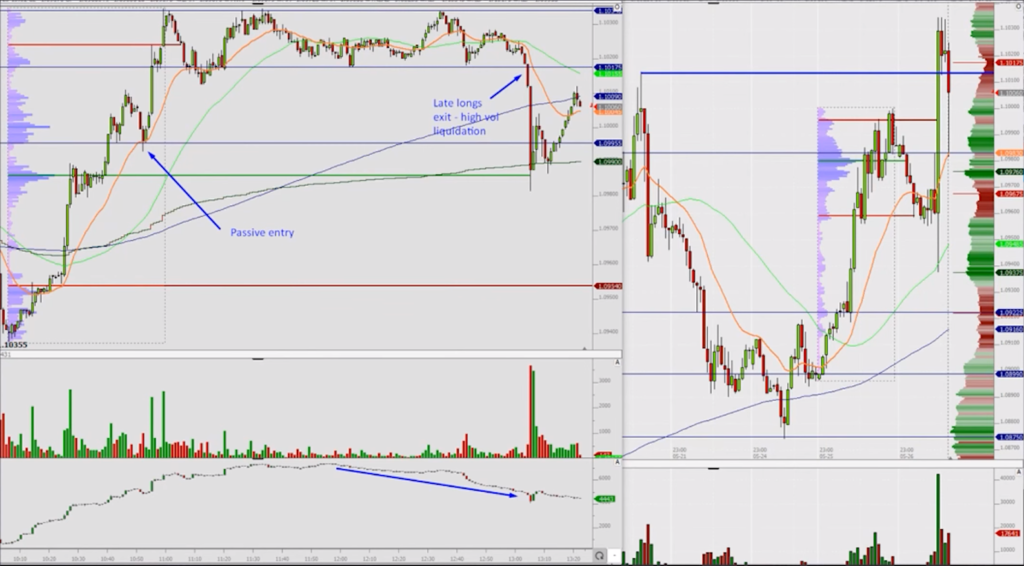 Ahead of price getting to our area of focus you're looking for any reference points on a ladder. Market halts at 1.10000 which is high of yesterday and you see absorption there with more then 200 lots traded on that single price. When markets gets trough it quickly drifts down to low volume area. 
Now to get a passive entry above that area you want to see more buying there, market should hold at that level. Even with fast blip lower your stop is below low volume area. Ask yourself if you see any significant selling coming in?  If not, your conviction could get even bigger when after market attempted to sell below 1.09955 it gets bid up again. After recognising that buying comes in and bids higher and higher – this is the chance to add to this trade. After eventually lifting 1.10000 where we saw initial absorption your aim is to hold this position.
On a passive entry and trending type day you should be targeting new high. Your risk is now staying above the low of that retracement move which is 1.09930.
Focus on the order flow and watch if buying is still coming in – how consistently are offers lift up? Getting more context from the chart you can see that key level at 1.10150 break of which could offer nice stop type move. After breaking that level you're expecting very fast exhaustion – this is a chance to get out, at least of some of the position. The exit often depends on our personal targets for a trade. Are you looking for larger movement, in which case the 1.10150 is now the new support for, or are you looking for simply breaking that level causing stop type move, getting you the way out? 
The entry was the point to build up size to really maximize potential of that move and consolidation above key level gives you time to get out of the position.
This is trade which was planed – you have expectation of what you want to see, and you execute after you see it. Always keep in mind your target, which in this case should be at least break of the high. 
Learn to trade order flow and get the most of this kind of moves with our price ladder course. It will help you to get a better understanding of what to look at and how to exploit market behaviour day trading. You can find it at: https://axiafutures.com/trader-training/