In this video, Adam goes through the execution of our AXIA Elite Trader on Tuesday 7th of January 2020 and Wednesday 8th of January 2020.
This was a record breaking day for our Elite Trader, which eclipsed one of his prior best days just a month ago, and a huge personal milestone in daily PnL.
US-Iran Crisis: Buildup To Trade The Iran Attack
With the beginning of 2020 there was a dramatic escalation in tensions between the US and Iran, after Trump ordered an airstrike on Jan 3rd that killed top Iranian military commander Soleimani. After this, Iran pledged to take "severe revenge" and markets started getting nervous on the prospect of a military conflict between the two nations.
Oil and Gold surged on geopolitical risks after the US strike while equities and risk-assets sold off. The markets were nervously awaiting for Iran's response although there was the hope for a diplomatic solution and an avoidance of Iran's retaliation.
At around 11pm London on Tuesday 7th January, various twitter sources started reporting that Iran started firing missiles at Iraqi bases that house US soldiers. With both US and European cash markets closed, futures were slow to react. However as more sources started confirming the attack and more specifically when Iran Revolutionary Guard confirmed that they were hitting US forces, markets were on the move. Oil, Gold and US bonds started rallying sharply while S&P futures started selling off aggressively.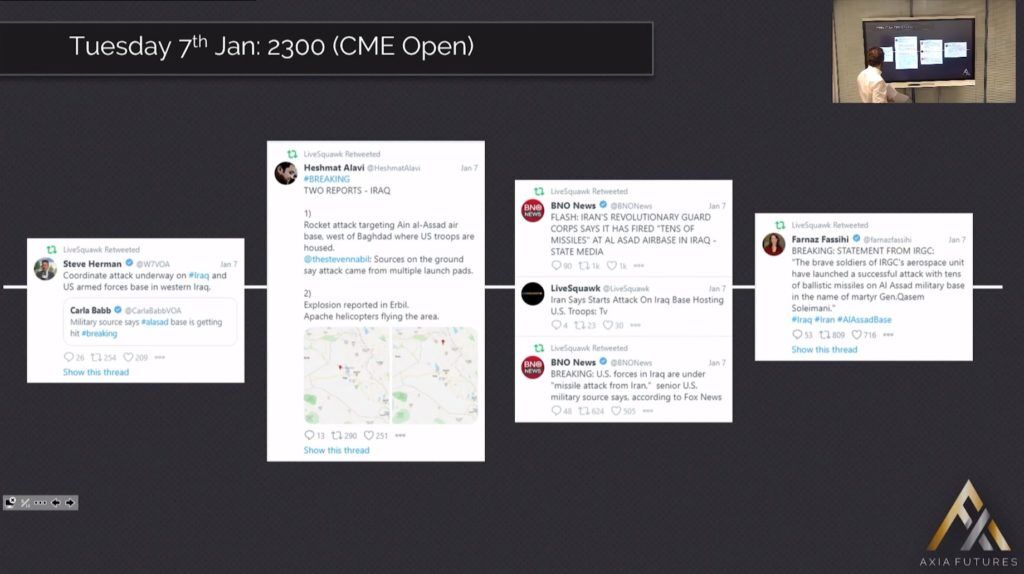 Rapid Trade Execution Using Order Flow
The elite trader started buying oil and gold very aggressively (around 200 lots in each), buying T-Notes (300+ lots) and selling S&P (200+ lots). Executing with his usual trading style he kept managing the trades in these 4 markets by adding and scaling out as he saw fit. As the news kept getting more and more traction so was the market reaction. The moves from 11:00 to 11:40 PM were quite large across oil, gold, bonds and S&P and he managed to capitalise big on them.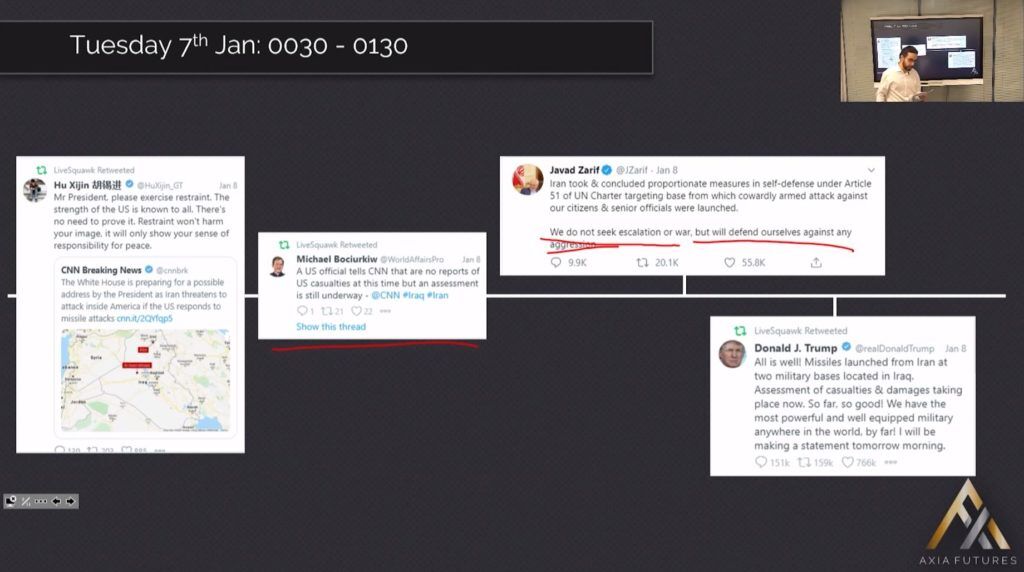 After the initial reaction to the attacks, the market was fearing the worst (potentially a full-blown war between US and Iran) and thus the very big risk off move. However, soon it was reported that there were no US casualties and Iranian Foreign minister Zarif said that IRAN CONCLUDED PROPORTIONATE MEASURES, NOT SEEKING WAR. In addition to this, Trump tweeted saying "All is well! Missiles launched from Iran at two military bases located in Iraq. Assessment of casualties & damages taking place now. So far, so good!". (See previous examples of how our Elite Trader executed on Tweets that moved the market when he traded the Trump tweet aggressively on China Phase one deal)
All the above feeding into markets made participants realise that the situation seemed like it was contained and that the US probably wouldn't have to retaliate back. This caused the V-shape reversal in all markets with Gold, Oil and US bonds selling off and Spoo rallying retracing the original move. Our Elite Trader managed to reverse his initial risk-off positions and sold Gold and Oil while buying SnP to add to his PnL. By 3am most markets had retraced most of the moves.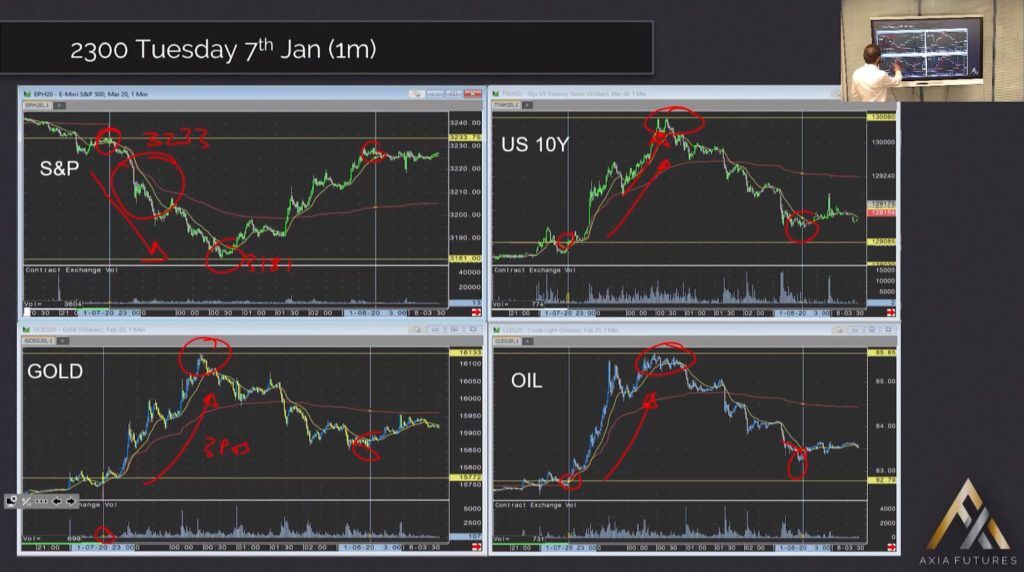 On the morning of Wednesday 8th of January, after this massively volatile overnight session, the European session was a lot quieter. Equity markets kept drifting higher while safe haven assets (Bunds/Gold) and Oil kept drifting lower as markets were relieved on the limited response by Iran and the fact that there were no casualties. Trump was scheduled to address the nation at around 4pm London time and it was clear that this would be the catalyst for the next move.
The market price action was indicating that Trump was probably going to sound harsh on Iran but refrain from announcing further conflict or retaliation after the latest attacks. If that was the case we would expect probably another leg of risk-on (but possibly short-lived as this was now priced in). If on the other hand he chose to escalate tensions further, then we would expect risk-off to hit the markets again.
Trump started his speech by saying that IRAN APPEARS TO BE STANDING DOWN. This was the first hint that he acknowledged that the Iran attack was limited and that hinted that he would not choose not to retaliate. Our Elite trader instantly sells 90 lots in Oil and then sells 80 lots in Gold and buys 280 S&Ps.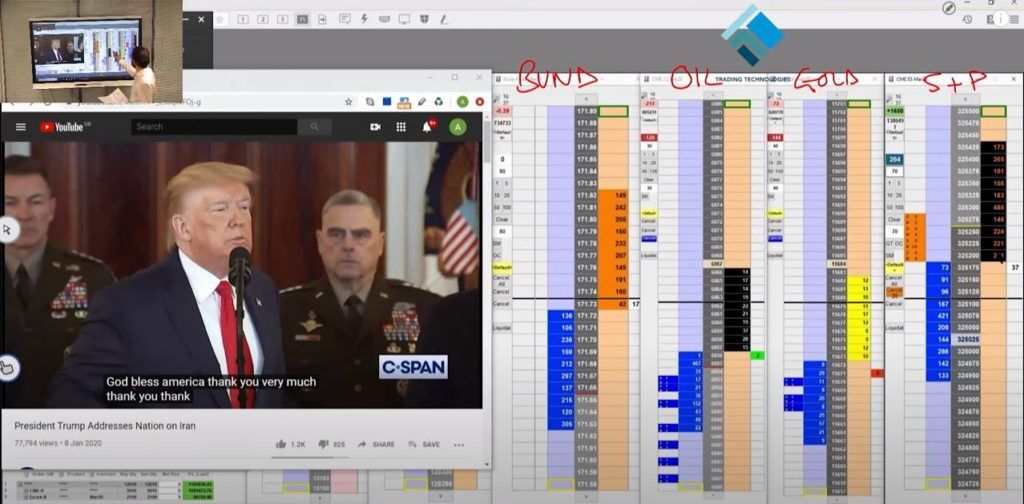 As Trump continued talking he struck a very de-escalating tone by saying that he was seeking a diplomatic solution and peace with Iran. This was the best that the market would hope for and as a result risk assets rallied and safe haven assets and oil sold off to completely unprice any war premium. The elite trader played for a final risk-on move by adding to his positions and scaled his positions out as he started seeing signs of exhaustion in the moves.
Learn The Same Trader Skills From "Trading The Iran Attack"
Our elite trader is renowned for trading global macro events and his execution skills on such events are second to none. A few months prior to this day, over the continuous theme of the US-China trade disputes, he executed aggressively multiple big day trading opportunities.
To review more examples in-depth of this AXIA Elite trader execution style, have a look at our Price Ladder and Order Flow Strategies training. Moreover, to learn to trade this type of trading and understand execution over geopolitical and central bank events, the central banks training covers in-depth central bank trading strategies.
For information on how to develop your career as a high performing futures trader then check out our range of Trader ​Training courses. Our flagship 8 Week Career Programme can be attended live on our London Trading Floor or virtually from home as an online trading course. These are the most comprehensive training programmes in the world of proprietary​ ​futures​ ​trading industry and are based​ ​upon years of successful in-house skill​s ​development​.
Axia Futures
4 Endsleigh Street London GB WC1H 0DS
+44 20 3880 8500
https://axiafutures.com/
Social Media:
Facebook: https://www.facebook.com/AXIAFutures/
YouTube: https://www.youtube.com/AxiaFutures
LinkedIn: https://www.linkedin.com/company/Axia-Futures/
Contacts:
Demetris Mavrommatis – Co-Founder, Head of Trading
Alex Haywood – Co-Founder Head of Strategy